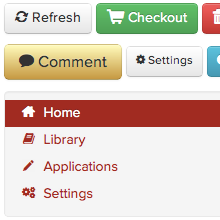 Font Awesome
Specially made for Bootstrap, Kickstrap uses the Font Awesome icon library instead of the Glyphicons. Why are icon fonts awesome you say? Easily revert back to the standard Glyphicons from your kickstrap.less settings file.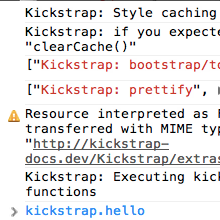 Talks to You
Kickstrap uses your browser's console like a chat window between you and your site. Quickly troubleshoot your apps and other site settings. Kickstrap also includes an optional notification app called Pines Notify to display Growl-like messages to you or your users.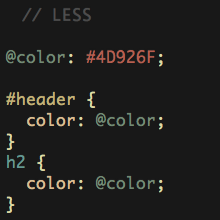 Write LESS
Kickstrap uses LESS, a shorthand CSS preprocessor that compiles down to CSS and provides options for caching. Read more about LESS CSS. Kickstrap also includes LESS to CSS compilers for Mac and Windows. We recommend compiling to CSS for your final public product.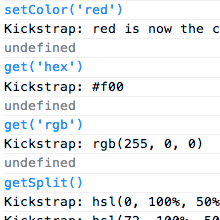 Color Schemer
Our very own app, Color Schemer, helps you generate color schemes and convert between hsl, hsv, hex, and rgb.